Time to make some hot, nutritious soup with the kiddos
Ten recipes from ChopChop, from minestrone to harira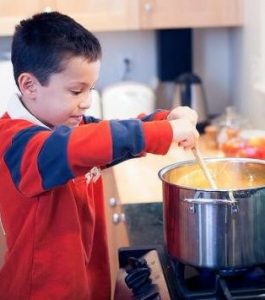 January is a great time for National Soup month, as will be February, March, and the rest of the year.
ChopChop, a nonprofit with advice for cooking with kids, offers 10 easy soups to make for these cold days. Even tonight.
Enjoy the detailed recipes as well as photographs of kids cooking and the soups themselves on ChopChop's Pinterest page.
While you're at it, make sure you buy healthy ingredients at the best price! 
---
(Some) rain or (some) snow, the young ones need to be out
Rhode Island has a "hike" for that
That's only one-third of the one hour of moderate to vigorous physical time our 5-2-1-0 initiative strongly recommends – and only for young students. Many Rhode Island advocates, educators, and legislators declared victory in 2016 when the state passed a law requiring elementary schools to give their students 20 minutes of recess each day.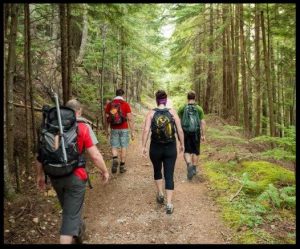 Let's talk about weekends, then. Happily, lots of folks want to help you out with fun, healthy activity, even during the winter months.
Park Rx, in concert with the Rhode Island Land Trust Council and the Westerly and South Kingstown Land Trusts offer short hikes every Saturday morning. ExploreRI lists virtually every trail in the state with length, difficulty, and trailhead.
ExploreRI is the website to visit if you want to "got it alone" with your hike. 
Visit Park Rx, a partner to South County Healthy Bodies, Healthy Minds, on our Facebook calendar or website calendar for regular updates on its Saturday hikes. Our calendars will also feature other activities around the region as we learn about them.
Check out the Physical Activity page on our website for dozens of ideas – some even indoors!
---
Bonding with your baby during daily routines  
"Lily, I see you bouncing to the music; let's dance together!"

Studies show that a baby who experiences his or her world as predictable, supportive, and loving develops the security to explore, learn and engage in the world and with the people in it.
How does that translate for you, as a parent, other relative, or caregiver? You might be surprised that it can be as simple as the smiles that already come to your face so easily, the cuddling you wanted to do anyway, reading quietly together, and, well…changing diapers without complaint.
The Center for Early Childhood Mental Health Consultation (ECMHC) offers "5 Simple Tips" sheets for each of five daily routines: dressing, mealtimes, playtime, rest time, and diapering.
Samples?
Dressing: Have fun. "Ellen, you wriggled your feet into your socks. Yay! Let's clap hands!
Mealtime: Talk and sing to your baby. "You like the orange carrots, Calvin. I can see you smile."
Playtime: Follow their interests. "Lily, I see you bouncing to the music. Let's dance together!"
Rest time: Create a routine. "Time to take a bath, Gia, and then we'll get ready for your nap."
Diapering: Offer choices. "Kenny, do you want to hold the brown bear or the red ball while Daddy changes your diaper?"
Find the 5 one-page sheets on our website here.
---
The 200 best children's books ever? Do you agree?
TIME magazine chooses, but you can vote for your favorites, too
It takes chutzpah to tell the entire nation that you've chosen the 100 best books ever written for children and another 100 for young adults. In pecking order! A lot of kids – not to mention us former kids – will probably differ strenuously.
But TIME magazine has taken the risk.
With a little help from such notable people and organizations as U.S. Children's Poet Laureate Kenn Nesbitt, the National Center for Children's Illustrated Literature, the Young Readers Center at the Library of Congress, and the Every Child a Reader literacy foundation.
We will tell you that "Where the Wild Things" by Maurice Sendak finished first in the young children's list. "The Absolutely True Diary of a Part-Time Indian" by Sherman Alexie was first in the young adult category. But you'll have to read the article to learn the rest.
The good news is that you can still vote for your favorites! See below.
We've added a link to the TIME article and the voting poll on the Healthy Bodies website.
you might also like these articles: