Thanksgiving at your house? Get your Turkey Toolkit here!
Want your guests to leave your Thanksgiving table healthy? Cook the turkey right!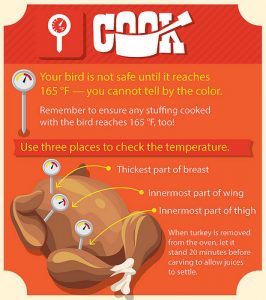 The USDA has put together all the information you need for cooking a safe Thanksgiving dinner. The agency provides articles on everything from brining, stuffing, and deep frying a turkey, to properly storing leftovers and preparing a bacteria-free Thanksgiving. You just have to download your Thanksgiving Toolkit.
And while you might have the day off, bilingual turkey experts at USDA will have a toll-free hotline open on Thanksgiving Day from 8 a.m. to 2 p.m. ET. Call 1-888-674-6854. By the way, the hotline is open regularly from 10 a.m. to 6 p.m. ET, Monday through Friday.
About those endless leftovers. Check out the USDA's convenient FoodKeeper app on Android and Apple. The app provides storage timelines for your refrigerator, freezer, and pantry for more than 500 products, including baby food, dairy products and eggs, meat, poultry, produce, and seafood.
Happy Thanksgiving!
you might also like these articles: