Children of the Opioid Epidemic, a Rhode Island story
The New York Times follows a young Providence woman with an opioid addiction as she gives birth to and raises a young son.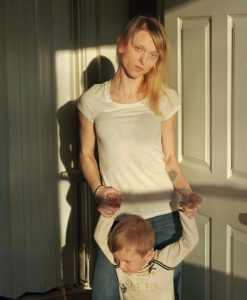 The damage opioids cause is now spreading to an innocent, defenseless new generation: the children of addicts. In a new feature, The New York Times writer Jennifer Eagan includes this more-than-sobering paragraph:
"Of the estimated 2.1 million Americans in the grip of opioid addiction, many are women of childbearing age. The young-adult population has been hardest hit, proportionately, with nearly 400,000 adults ages 18 to 25 suffering from addiction to prescription painkillers (the vast majority) or heroin. Strict adherence to a birth-control regimen — or any regimen at all — is difficult for someone whose body and mind have been hijacked by drug dependence, which may help to explain why, according to the largest recent study, nearly 90 percent of pregnancies among women who abuse opioid medications are, like Alicia's, unintended."
"Alicia", important to note, grew up in an unnamed Providence suburb and has spent her opioid years in the capitol city.
(In the photo: Elizabeth and baby, Rhode Island. Alec Soth/Magnum, for The New York Times.
you might also like these articles: