Data
Healthy Bodies, Healthy Minds (HBHM) is dedicated to providing you with important health information, data, and resources to help keep you informed about the latest health trends. Below you will find data that HBHM has collected, as well as local and national studies done about various health-related topics regarding South County. Have any questions about any of the data below? Contact us here.
Mental Health
Nationally, only 1/3 of children get the mental health evaluations and services they need.
In South County, on average, 22.7% of high schoolers reported having signs and/or symptoms of depression. And on average 8.9% reported having suicidal thoughts.
(SurveyWorks! 2013-2014 High School Reports as listed on infoworks.ride.ri.gov)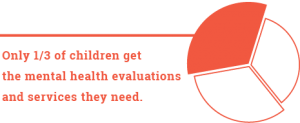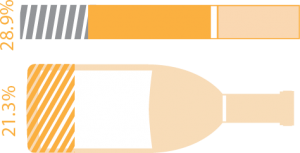 Substance abuse
In South County, on average, 21.3% of high school students reported that they have in the past or actively drink alcohol, and 28.9% reported that they have smoked marijuana before.
(Source: SurveyWorks! 2013-2014 HighSchool Reports as listed on infoworks.ri.gov)
Food Deserts
This graph shows the percentage of the total population in a county that is low income and living more than one mile from a supermarket, or large grocery store if in an urban area, and more than 10 miles from a supermarket or large grocery store if in a rural area.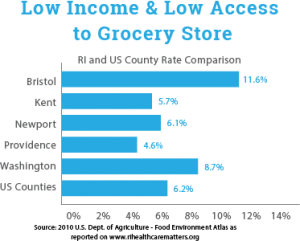 Childhood Obesity & Screen Time
Although local childhood obesity data are not available, we know that the prevalence of childhood obesity in the last four decades in America has more than doubled, and today nearly 1 in 3 children ages 2-19 are obese (17%) or overweight (15%).
According to a survey taken by South County middle schoolers, on average, 35.9% report engaging in 2+ hours of recreational screen time per day.
(Source: SurveyWorks! 2013-2014 Middle School Reports as listed on RI DataHUB)