Avoid frozen sugar water for the remaining hot weeks
How about frozen granola, strawberries, blueberries, orange juice?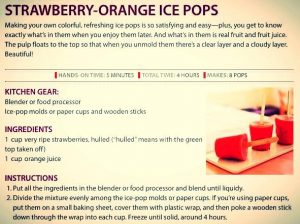 The frozen sticks you buy at the supermarket are actually much worse thansugar water. A recent package of orange pops included these ingredients: "Water, Glycerine, Maltodextrin (Corn). Contains 1 Percent or Less of Each of the Following: Citric Acid, Guar Gum, Natural Flavor, Aspartame, Acesulfame Potassium, Locust Bean Gum, Ascorbic Acid (Vitamin C), Red 40, Yellow 6."
You can do better, a LOT better. Type in "healthy popsicle" on the web, and you'll find a hundred sites with easy, fun ideas…no chemicals, no sugar.
We're always partial to our friends at ChopChop, who have recipes for frozen fruit salad pops, roasted banana pops, granola pops, watermelon pops, and kiwi pops. Wow!
Read our short article with the link to the ChopChop chill recipe site.
---
Squeezing in one last summer vacation trip with kids?
20-plus tips for safe and – dare we say – hassle-free travel
The toughest part of any vacation is usually preparing for it. Especially when you have kids, of any age.
Are we there yet?
Our wise friends at Children's Healthcare of Atlanta offer a concise, well-organized list of 20-plus "travel hacks", whether you are going by car or plane.
Some items on the list might seem obvious: bland crackers for the child (or adult) who gets carsick. A sheet or tarp for playing outside when you take a break. A trash bag for the growing pile of garbage. Healthy snack food. Lots of water.
Others on the list: Did you notify the hotel you needed a crib or rollaway bed? Are you all set on passport and visa materials? Do you have enough medications and, if necessary, proof of vaccinations?
It's a good list to have any time you travel, even when summer ends (sigh).
Visit our website to read Children's Healthcare of Atlanta's 20 travel hacks
---
Your local library is always happy to see your children 
For example, the Peace Dale Library special "Back-to-School" storytime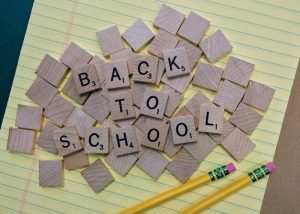 The Peace Dale Library was prepared to welcome back the neighborhood's children of all ages with some stories and songs about school, and a back-to school craft.
It's a good reminder that South County libraries almost always have something cooking when it comes to kids, however young, however old.
We do our best to list appropriate activities on the Healthy Bodies, Healthy Minds web calendar.
We also have a rich set of activities and ideas about children's reading and literacy. The beginning of the school year is a great time to check us out!
All kinds of happy, healthy, fun, nearby, and wise events on our Calendar. 
A link to South County libraries, a list of the 100 best children's books, and more reading resources.
---
Facebook no longer top social media choice for teens
YouTube, Instagram, Snapchat take over, depending on race & gender. Half of teens acknowledge "near constant use" online.
Facebook has given way to YouTube among teens using social media, while nearly half (45%) report they are online on a near-constant basis, according to a new Pew Research Center report.
U.S. teens ages 13 to 17 are multi-functional. Half say they use Facebook, 85% use YouTube, 72% use Instagram, and 69% use Snapchat, with the latter being their most favorite.
In addition, just shy of half of all teens – 45% – now report they are online on a near-constant basis. Some teens say their use is mostly positive (31%) or mostly negative (24%), but the largest share (45%) says the effect is neither positive nor negative. 
Both gender and race made big differences in the use of social media.
Link to the full Pew Research Center report at the Healthy Headlines section on our website's home page. You'll find news and latest studies featured there.
you might also like these articles: