Two great weeks in one: May 1-7
Children's Book Week & Screen Free Week
Here's a pairing as natural as… well, you decide. Turns out that Children's Book Week and Screen Free Week both take place the first week of May. One helps you and your family give up your TV, laptop, gaming device, and smartphone for a few hours. The other offers a pretty spectacular option: sitting together with some great books.
Campaign for a Commercial-Free Childhood offers a wealth of screen-free activities, for your family or for your whole community.
Children's Book Week, established in 1919, is managed by Every Child A Reader.
---
Clear your schedule for Saturday, May 6
It's planting (and eating) time!
You can't get your food any fresher than from a local farmer…or your own garden plot. The URI Spring Festival on Saturday, May 6 offers you help with both, plus lots more. The packed morning (9 am-1 pm) will include:
the annual plant sale (not just vegetables)
the South Kingstown Farmer's Market (SNAP & WIC benefits accepted, thanks to a Healthy Bodies, Healthy Minds/Thundermist Health Center partnership)
free soil pH testing
gardening demonstrations
"e-waste" recycling, and
live music and food
Visit URI's website for all the details, including all the participating farmers and what the heck "e-waste" is.And parking and admission are free!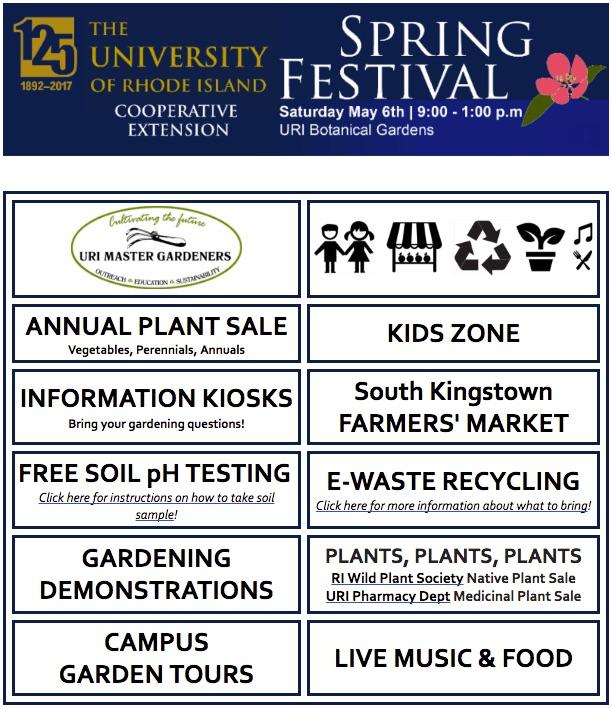 ---
"Vroom" to build your child's brain
They make it fun and easy for everyone
Don't be intimidated that Vroom is led by experts in everything from early childhood and parenting to neuroscience and behavioral economics. It comes up with the coolest things for parents to do with your kids.
As simple as having your 1-year-old turn off the lights when you leave a room and turn them on when you enter. Or give your 2-year-old a daily weather report and what it meant for you, e.g. you carried an umbrella or wore a sweater. Maybe your 5-year-old should be in charge of the list when you both run errands. And you and your 3-year-old can empty your pockets every night and you can say where each item came from.
Find out about Vroom, with links, at the Healthy Bodies, Healthy Minds website.
---
Meditation for your child in meltdown? You bet. 
Three simple exercises you can try (you might like them, too) 
Jillian Pransky of YogaWorks in The New York Times offered three very simple calming exercises for meltdown or bedtime, as needed.
In one exercise, invite your child to imagine his or her body as floors of an elevator. She slowly travels from the top floor to ground floor.
Or have your child take a deep breath, unfurling each finger of a fist slowly while he does.
The third is three deep breaths, chanting the number of the breath on the exhale. Then encourage your child to enjoy feeling his body sitting or lying on his floor or bed.
Find a link to Jillian Pransky's article in The New York Times on our website.
you might also like these articles: